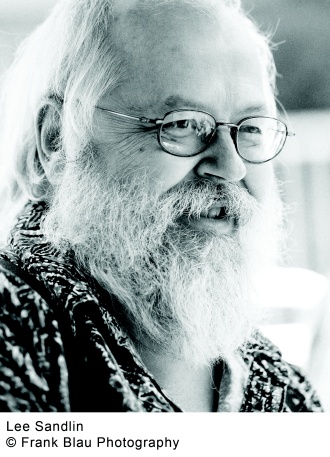 Personal Accounting
♦♦♦
1956-2014
Lee Sandlin is an award-winning journalist and essayist who was born in Highland Park, Illinois, and grew up in the suburbs of Chicago. He briefly attended the University of Chicago and Roosevelt University before leaving school to travel and write. He lives in Chicago.
He has written feature journalism, historical studies, and music reviews on opera and classical works — mostly for the Chicago Reader, where he was also for many years the TV critic. More recently, he has become a frequent contributor to the Wall Street Journal.
His essay "Losing the War," first appeared in 1997, subtitled "World War II has faded into movies, anecdotes, and archives that nobody cares about anymore. Are we finally losing the war?" It has been on university reading lists and praised in blogs of both anti-war activists and neocon crusaders. A segment was adapted for broadcast by the public radio show "This American Life" and anthologized by its host, Ira Glass in a 2007 collection, "The New Kings of Nonfiction."
"Saving His Life," his biography of his father-in-law, a Russian emigre who grew up in China, recently published in a limited edition by Sherwin Beach Press. The Distancers (2004) chronicles the American Midwest of several generations, as reflected in the history of a single house. His most recent works are "Wicked River," a narrative history of the Mississippi River in the 19th century; "Storm Kings," a history of tornado chasing; and a revised, expanded version of "The Distancers." An exhaustive survey of his other interests can be found on the Enthusiasms page.
Lee passed away unexpectedly on December 14, 2014.
---
Talks and interviews
Afternoon Shift, WBEZ Chicago - January 11, 2012
Interview with Niala Boodhoo on the history of tornado tracking » Listen or » Download
wbez.org
Critical Thinking, WFMT Chicago - September 23, 2013
Interview with Andrew Patner » Listen
wfmt.com
Extension 720, WGN Chicago - January 11, 2012
Interview with Milt Rosenberg » Listen or » Download
wgnradio.com
Iowa Public Radio - November 22, 2010
Interview with Charity Nebbe » Read, » Listen or » Download
iowapublicradio.org
WILL-AM 580 - November 9, 2010
Interview with Harriet Williamson » Read or » Download
will.illinois.edu
WYPL-FM - November 9, 2010
Book Talk with Stephen Usery » Read or » Download
wyplfmbooktalk.blogspot.com
Large-Hearted Boy - October 29, 2010
Book Notes music playlist » Read
largeheartedboy.com
Time Out Chicago - October 28, 2010
Interview with Jonathan Messinger » Read
chicago.timeout.com
WMPR-FM - October 26, 2010
Blogtalkradio Conversations LIVE with Cyrus Webb » Listen
blogtalkradio.com
Pittsburgh Tribune - October 24, 2010
Interview with Rege Behe » Read
pittsburghlive.com
---
Lee Sandlin at Wicked River launch party
---
E vents
Chicago Writers Conference - October 26, 2014
In "Beyond Google: Researching Non-Fiction," Lee and High Rise Stories author Audrey Petty
spoke about their research methods and preferences
University Center 525 S State St, Chicago
chicagowritersconference.org
Valparaiso, Ind. - October 4, 2014
Lee addressed the Northwest Indiana Chapter of the
American Meteorological Society / National Weather Association
Student Union Building, Valparaiso University 1509 Chapel Drive, Valparaiso.
valpo.edu/student/nwa
Tulsa, Okla. - March 31, 2014
Talk as part of "Book Smart Tulsa"
Allen Chapman Activity Center, University of Tulsa 800 South Tucker Drive, Tulsa, Okla.
booksmarttulsa.com
St. Louis - March 4, 2014
Talk and signing presented the by St. Louis County Library Foundation and Left Bank Books
Library Headquarters 1640 S. Lindbergh Blvd., St. Louis
slcl.org
Edwardsville, Ill. - November 3, 2013
Book talk and signing in The Distancers's home town
Edwardsville Public Library 112 S. Kansas Street, Edwardsville, Ill.
edwardsvillelibrary.org
Chicago - September 26, 2013
With Dmitry Samarov and Charles Blackstone at "Salon Splendor"
Curbside Splendor The Hungry Brain, 2319 W. Belmont Ave.
curbsidesplendor.com
Warren, Ohio - September 21, 2013
"Weather Week" at the Warren-Trumbull County Library
Warren-Trumbull Library Main Library, 444 Mahoning Ave. NW, Warren, Ohio
wtcpl.org
Bettendorf, Iowa - September 27, 2012
Bettendorf Public Library 2950 Learning Campus Dr., Bettendorf Iowa
bettendorflibrary.com
Moline, Ill. - September 28, 2012
Upper Mississippi River Conference Stoney Creek Inn, 101 18th St., Moline, Ill.
RiverAction.org
Wisconsin - October 18-18, 2011
Chippewa Valley Book Festival Menomonie and Eau Claire, Wisc.
cvbookfest.org
Niles - October 15, 2011
Niles Public Library 6960 W. Oakton St, Niles, Ill.
nileslibrary.org
St. Louis - July 20-23, 2011
Talks in connection with SLAM Mississippi panorama restoration
St. Louis Art Museum 1 Fine Arts Drive, Forest Park, St. Louis
Missouri Botanical Garden 4344 Shaw Blvd., St. Louis
slam.org - mobot.org
Green Bay - April 14, 2011
Christie Theatre, University of Wisconsin-Green Bay
Sponsored by Natural & Applied Sciences, and Humanistic Studies, UWGB.
Milwaukee - April 16, 2011
Boswell Book Company 2559 North Downer Ave, Milwaukee
boswellbooks.com
New Orleans - November 11, 2010
Octavia Books 513 Octavia Street, New Orleans
octaviabooks.com
Oxford, Miss. - November 10, 2010
Square Books 160 Courthouse Square, Oxford
squarebooks.com
Memphis - November 9, 2010
Davis-Kidd Booksellers 387 Perkins Road Ext., Memphis
daviskidd.com
Blytheville, Ark. - November 8, 2010
That Bookstore in Blytheville 316 West Main, Blytheville
tbib.com
St. Louis - November 4, 2010
Left Bank Books 399 N. Euclid, St. Louis
left-bank.com
Frankfort, Ill. - November 1, 2010
Frankfort Public Library 21119 Pfeiffer Rd., Frankfort
frankfortlibrary.org
Chicago - October 28, 2010
The Book Cellar 4736 N. Lincoln Ave, Chicago
bookcellarinc.com
Chicago - October 28, 2010
University Club of Chicago 76 East Monroe St., Chicago
ucco.com
Minneapolis - October 25, 2010
Magers & Quinn Booksellers 3038 Hennepin Ave. South, Minneapolis
magersandquinn.com
---
Inquiries
Represented by Browne & Miller Literary Associates >> mail@browneandmiller.com
At Pantheon Books, contact Michiko Clark >> miclark@randomhouse.com
At Vintage Books, contact Angelina Venezia >> avenezia@randomhouse.com
All other author inquiries, contact Nina Sandlin >> nina.sandlin@gmail.com