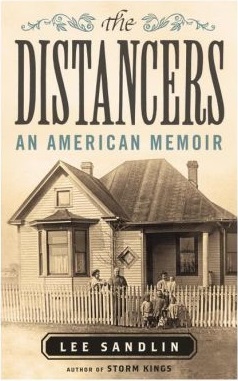 The Distancers
♦♦♦
"An American Memoir"
From the 19th-century immigrants who settled a small Midwestern farm, through the Great Depression and World War II, to the proud aunts and uncles with whom Lee Sandlin spent the summers of his youth, The Distancers is a starkly beautiful story in which the lost details of everyday American life - the home-brewed beer of Prohibition, rail-riding through the Dust Bowl, the forgotten summer pageants of the heartland - are recalled together with the hidden dramas of several generations of an American family. Here is a recreation of a world long since vanished, in which the author learned lifetimes of traditional values, including the essential art of keeping one's distance.
Originally published in the Chicago Reader as a twelve-part serial in the spring and summer of 2004, the Vintage edition is thoroughly revised, expanded, and corrected, and includes a new afterword.
---
"Bewitching" ... "poignant""
— Oprah's "Fall Reading"
"Mr. Sandlin fashions something beautiful from singularly unpromising material."
— Wall Street Journal
"The characters are indelible, the tale poignantly revealing as to what it means to be American, and the ending as powerful as it is displacing. That should give you an idea of just how good Lee Sandlin is. He might just be the best author youíve never read, if you havenít."
— Charlotte Post and Courier
"Their lives were no one's business, certainly not his. They lived to be unknowable, as if perhaps they had so little self-regard they felt there was too little of themselves to share. ... "
— Michael Miner in the Bleader
>> More of what they're saying
---
Purchase: It is alway nice to shop locally, and support your independent bookstore. You can also order online, or get the e-book.
Amazon | Barnes & Noble | Indiebound | Books A Million | Powell's | Random House